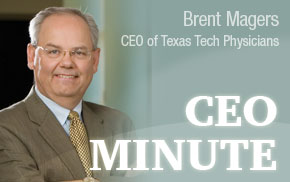 One of my favorite health care writers is Dr. Atul Gawande. Gawande is a surgeon, writer, and public health researcher. He practices general and endocrine surgery at Brigham and Women's Hospital in Boston and is a professor of surgery at Harvard Medical School and a professor in the Department of Health Policy and Management at the Harvard School of Public Health. I have read several of his books and always try to read his articles. I was privileged to meet him at a Medical Group Management Association conference some years back.

Gawande came up with the term "big med" in a much talked about article that appeared in the August 2012 edition of The New Yorker. When he uses the term "big med" he is talking about two things — the emergence of big companies in health care in the United States (as the result of mergers, acquisitions and consolidation) and the increasing use of technology.

In the article, he uses a successful restaurant chain to suggest lessons and make parallels to the health care delivery system. What he is basically saying is that the industrialization of health care delivery is a good thing and that standardization and use of best practices would make medicine more efficient and effective.

For example, he says standardization could be applied to total knee replacements and intensive care unit (ICU) stays. The surgeon or ICU specialist would follow a standardized guideline or protocol. In the case of knee replacements, we know that an integrated approach with patient expectation management, efficient pre-operative processes and timely post-acute care transitions will improve outcomes and reduce the length of stay. Texas Tech Physicians — Orthopedics has worked with UMC Health System on some standardization. There is more opportunity with items as the patients' nutrition, exercise, medication, treatment and discharge planning.

In the ICU, care might be monitored by specialist who is a thousand miles away. For that matter (and this is my idea) if robotic surgery can be done from the other side of the room — why not from the other side of the world? It might happen someday for our children and grandchildren.

By comparing the delivery of health care to managing a restaurant, Gawande has precipitated an avalanche of discussion and controversy from those who already dissed this standardization approach calling it "cookbook" medicine. And now he is saying health care delivery is like a restaurant. Talk about cookbook medicine. Oh well. A good writer should make one think and that is exactly what Gawande does. Check out the article if you have an interest in this sort of thing. You can easily find it online.