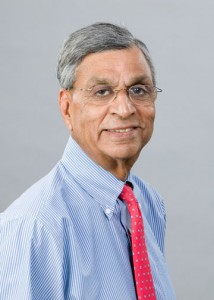 The Texas Pediatric Society Texas Chapter of the American Academy of Pediatrics presented the Charles W. Daeschner Jr., M.D., Lifetime Achievement Award to Surendra Varma, M.D., TTP-Pediatrics on Sept. 15.

This award, named after a longtime Texas pediatric society leader, recognizes pediatricians' contributions to the health and well-being of children and the education and mentoring of pediatric medical students.

"Dr. Varma has been a leader in education and in the field of pediatrics," said Steven L. Berk, M.D., TTUHSC executive vice president and provost and dean of the School of Medicine. "His commitment to our medical students, residents, his patients and even others afflicted with endocrine metabolic diseases has changed the lives of countless people across our state."

Varma, who serves as the associate dean of the Office of Graduate Medical Education and Resident Affairs, the Ted Hartman Endowed Chair of Medical Education, the University Distinguished Professor and vice chairman of pediatrics at the TTUHSC School of Medicine, established the Endocrine-Metabolic Division in the TTUHSC Department of Pediatrics in 1974 and started providing care to children with diabetes and other endocrine-metabolic diseases. With the help of then Texas Senator Kent Hence, he was instrumental in getting the law passed for newborn screening for congenital hypothyroidism. At the same time, he established the pediatric residency program in Lubbock. Varma stepped down as director of the program in 2012 after 33 years.

He was the recipient of Sydney R. Kaliski Award from the Texas Pediatric Society, the Hippocrates Award from the Lubbock-Crosby-Garza County Medical Society, and the Distinguished Alumni Award from King George's Medical University.