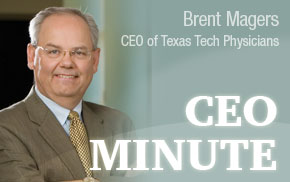 Happy Thanksgiving to all...

In many ways, Thanksgiving is the most American of holidays and it is one that people all over the world accept without controversy. It is never controversial to say thanks for what one has and for life itself. The first Thanksgiving in 1621 was about lofty ideals. We are about lofty ideals here at Texas Tech Physicians — we want to improve the health of people we serve with a spirit of compassion and knowledge. We want to make going to the doctor as pleasant as we possibly can. We want our "learners" to learn — medical students, residents, fellows, but also all the rest of us. We want to see people grow and be happy. Being thankful is part of being happy.

When we consider what we have and compare it to many in the world — well, there really is no comparison. We are blessed almost beyond measure. So, here it is 2012 — what are you thankful for this year? I will try to keep this businesslike and not mention personal things that mean so much to me like the love of my family and instead say I am thankful for the following:

Texas Tech Physicians had a great financial year in FY12
Our patient satisfaction is in the upper quartile
Our quality measures are looking good (and we are earning money for doing this)
We have wonderful faculty doing exciting things in research, teaching and clinical activity
We have wonderful staff that care about patients and each other
We have great working relationships with hospitals throughout West Texas
We live on the Llano Estacado and have the best sunsets in the world
We are alive and excited about tomorrow

I am thankful that most of us will enjoy a Thanksgiving dinner of fine foods of the same type served at the first feast in 1621: turkey, cranberry sauce, potatoes and pumpkin pie. And finally, I am thankful that families or friends will pause to give thanks for blessings, not the least of which is being united for the occasion.