A new method of patient communication — text messaging ­— is allowing Texas Tech Physicians to offer innovative appointment reminders, but you play an important role in the sign up process.

Text messaging is an important opportunity.

Offering appointment reminders via text messaging is an important opportunity for Texas Tech Physicians. Text messages are not only cheaper to deliver than phone calls, but patients are far more likely to read a text message than they are to answer a phone call or listen to an automated message left on their voicemail. Better communication means fewer missed appointments.

Text messaging can also be utilized to improve our business. In the future, we will be able to remind patients of outstanding bills, encourage follow-up visits and annual check-ups, and better inform patients about weather closings and delays.

Your help is essential in getting patients signed up.

[caption id="attachment_545" align="alignright" width="300" caption="In order for patients to receive text messages, we must put their cell phone in the MSG PHONE field in registration."]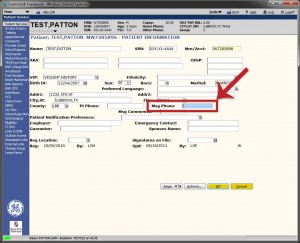 There are two key steps to getting a patient signed up to receive text messages from Texas Tech Physicians. First, we must have their cellphone number in their patient records (the MSG PHONE field in registration). This step is our responsibility. Look for ways to increase collection of this information by adding a request for a cellphone number into your patient information collection routines. Once we have their cellphone number on file, the patient must opt-in by texting TTDOC to the number 622622. Familiarizing yourself with this process will help you answer any questions patients may have.

The best time to encourage a patient to sign up to receive text messages is when they are scheduling a follow-up appointment — simply ask if they would like to be reminded of their next appointment by text message, and then walk them through the sign-up steps. Handout cards with patient instructions and frequently asked questions are available in each clinic utilizing text messaging appointment reminders. If you run out of handout cards, contact Jeff Hunter in the Office of Communications and Marketing at jeff.hunter@ttuhsc.edu.