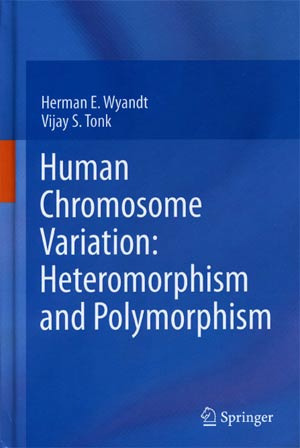 A new reference book on human chromosome abnormalities by a Texas Tech University Health Sciences Center (TTUHSC) physician could save physicians time and save families anxiety and money.

The book, "Human Chromosome Variation: Heteromorphism and Polymorphism by Herman E. Wyandt, Ph.D., of the University of Boston School of Medicine, and Vijay S. Tonk, Ph.D., director of the Clinical Molecular Cytogenetic Laboratory at TTUHSC, is a reference work for the specialized field of cytogenetics dealing with the study of human chromosomes.

Testing for human chromosome abnormalities has become a routine part of clinical medicine, especially in the areas of prenatal diagnosis, cancer and in determining the cause of birth defects, said Tonk, who is a leading expert in cytogenetic testing in the West Texas area.

"Gains or losses of small segments of chromosomes usually result in severe congenital abnormalities. Commonly known, for example, is the gain of an extra copy of chromosome 21 in Down Syndrome," Tonk said. "Finding evidence of a chromosome abnormality in a normal adult or in a child with clinical problems immediately raises complex issues that typically require further genetic studies and counseling to determine risks for fetal abnormalities that could be detectable prenatally for carriers to have children with congenital abnormalities."

Dealing with these issues requires the ability and knowledge to distinguish a normal chromosome variant, such as the subtle difference in chromosome morphology reflecting normal human diversity, from a clinically significant chromosome abnormality.

"Such morphological variants, often referred to as heteromorphism, can consume a considerable amount of a chromosome specialist's time, with corresponding cost and anxiety to the patient to make such a distinction," Tonk said.

The volume provides a pictorial guide to the most common variants, with comprehensive summaries of the relevant literature, organized by chromosome number. Summaries and photographs deal with variants that are the most ambiguous, and include examples of both classical banding and up-to-date molecular techniques for characterizing the regions in question.

The book was formerly printed under the title, "Atlas of Human Chromosome Heteromorphism," and has become a standard reference book in most cytogenetic laboratories.