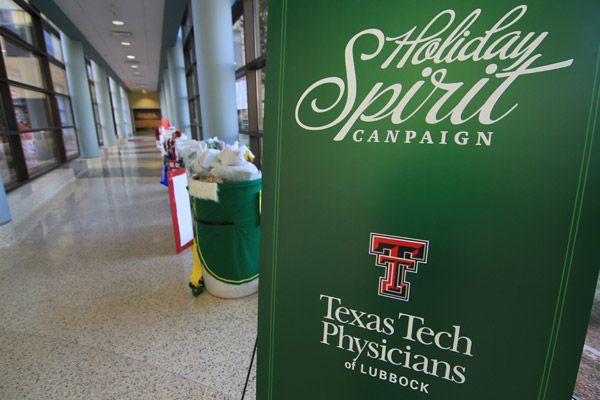 Total: 6,300 pounds and $5,600

After two weeks of gathering cans and collecting money, the TTUHSC Holiday SPIRIT Canpaign succeeded in gathering 6,300 pounds of food and $5,600 for the South Plains Food Bank.

Among the Texas Tech Physicians departments, TTP-Dermatology collected the largest combination of food and money per full time employee and is the recipient of the Golden Can Trophy. They collected 625 cans of food and donated $1,300.

Additionally, TTP-Pediatrics had the best-decorated barrel as judged by TTUHSC President Tedd L. Mitchell, M.D.


TTP-Pediatrics won "best decorated barrel," pictured with contest judge Dr. Tedd L. Mitchell, M.D.

By The Numbers
28,134 — Number of meals that the food bank can buy with the amount of money raised

934 – Most pounds collected by a single department — Neurology

1,300 — Most money collected by a single department — Dermatology

4,624 — Pounds collected by Texas Tech Physicians alone

$4,839 — Money collected by Texas Tech Physicians alone

1,472 — Approximate number of times Denver the Rein-doodle was pet as he made his fundraising rounds with Matt "Santa" Driskill