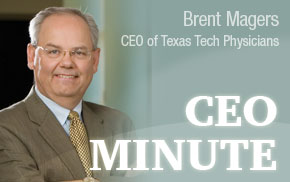 Last week was a time of three important announcements, all of which underscore the dynamic state of health care.

Two of them came from Kathleen Sebelius, secretary of the Department of Health and Human Services. She released the final rule that makes official a one-year proposed delay — from Oct. 1, 2013, to Oct. 1, 2014 — for providers to comply with ICD-10. Rose Johnson and Sylvia Adamcik in the Business Office are leading our efforts on ICD-10 preparation — it's a big job. We are working with all four campuses — the major concern being that TTP might experience cash flow disruptions, something that is just not acceptable.

The other announcement from Sebelius is a final rule establishing a unique health plan identifier (HPID). This is but one of the changes required by the Affordable Care Act. This is not for providers — we already have that with National Provider Identifier. Instead, this is for entities that need to be identified for certain standard transactions. For example, today, when TTP bills some payors, they have a wide range of different identifiers. This can cause time-consuming problems, like misrouting of transactions, denials of transactions because of insurance identification errors and difficulty determining patient eligibility. It is said that the HPID will help, and we hope that is the case. I met with Dr. Pat Conover, senior director of IDX services, and she said we have a pathway to make this happen on our end.

Finally, the Centers for Medicare and Medicaid Services released the criteria we must meet to qualify for the second stage of the federal incentive program to encourage adoption of electronic health records. I met yesterday with Dr. Craig Bradley on it and he assures me we will be in good shape. So nice to have qualified people, like the four mentioned in this column, who are capable of successfully dealing with the never-ending stream of changes. TTP has many fine employees dedicated to our mission and vision.